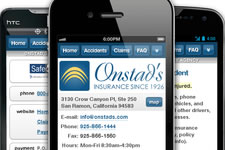 During an emergency situation when utilities have been knocked out by severe weather, you can expect your cell phone coverage to be compromised too.
However, cell phone coverage is often the first utility to be restored, as the carriers bring in extra cell phone towers on wheels to the areas that have been hit the hardest and require communication for teams managing evacuations and emergency and medical care.
What was once a luxury form of communication is now often back in service before power, landlines, and drinking-water systems.
Other than keeping your phone close by, dry, and charged, here are some other things you can do now to be sure you can make the most out of this valuable resource during an emergency:
Keep important contact information in your phone - family, friends and local emergency resources. Include phone, email and social networking accounts if applicable.
Learn how to send and receive text messages.
Purchase a backup battery and keep it fully charged. Consider a solar-powered charger or hand-crank charger. You can even find these types of specialty charges that work with lap-tops and other small electronics, which would prove extremely valuable during a power outage.

Many modern smart phones are battery hogs - they run through a full charge in less than a day. However, you can turn off many of the features that use a lot of battery power that aren't critical functions. Learn how to manage those features so that in an emergency situation, you can shut them off and conserve power.
Anytime your phone is roaming or trying to stay connected to a weak signal, it will use more battery power. Consider turning off your phone in this case, and only periodically turn it on when you need to use it or check messages.

Consider getting a basic pre-paid phone if you don't have a cell phone (or even if you do!). There's no monthly fee, no long-term commitment, and no credit checks like with a typical cell phone plan. You simply purchase the phone, and pre-pay for a bank of minutes. When you run out of minutes, you buy more (like a pre-paid phone card, only the minutes are used only on this phone). Many of the basic phones will hold a charge for much longer, as they don't require nearly the battery power of the modern smartphones. Keep just the critical numbers programmed into this phone and leave it charged in a safe place - ideally with your emergency preparedness kit.
Note - the minutes on these plans expire, so remember to recharge the phone with new minutes as often as necessary.