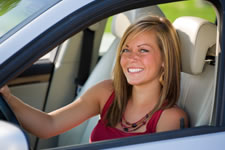 It's coming, and there is nothing you can do to stop it. It's your teenager's 16th birthday (and all the worry that comes with it).
Take the time now to consider how you will discuss your teenager's new driving responsibilities and the rules that you'll expect them to follow.
It's time to educate yourself, know the risks, but don't panic. Statistics can be scary, but having a comprehensive understanding of the challenges that teen drivers face will help you educate your teenager and keep them safer on the road.
---
Know the Graduated Driver License requirements in your state. State laws are evolving all over the country in response to the dangers of distracted and inexperienced teenage drivers. Do your part to educate your teenager, promote safe driving, and enforce the same rules at home.
---
Set high expectations of your teenager. Let them know that you expect nothing less than a safe driving record.
---
Be the driver you want them to be. Take this opportunity to finally force yourself to put down the phone whenever you're driving. It's a hard habit to break, but it's even harder to explain to your 16-year-old why it's OK for you to do it, but not them. Enforcing safe driving rules will be easier, and you'll also be a better driver for it!
---
Make an informed, responsible decision about the type of car your teenager will be driving. Consider all safety aspects like airbags, size, visibility, and condition. Make sure the car is in good enough condition that you won't also be worrying about them breaking down on their way home at night.
---